Stricken contractor hoping to bring in £300m by the end of next year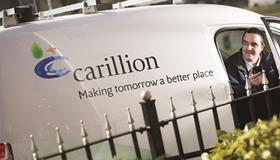 Carillion has raked in the first £50m chunk in a disposals programme it hopes will bring in £300m by the time it wraps up the firesale at the end of next year.
The debt-laden firm told the City this morning that it had sold a "large part" of its UK healthcare facilities management business to support services specialist Serco.
The deal covers more than 50 NHS sites and includes five acute hospital trusts. Serco said it had bought a business with annual revenues of £90m with the contracts having an average remaining lifespan of 14 years.
Carillion, which last month announced a pre-tax loss of £1.15bn for the first half of the year after racking up more than £1bn-worth of provisions including a previously unannounced £200m hit at its support services business, said it was planning a series of disposals over the next 15 months to bring in much needed cash.
It said its Canadian business, which has carried out a number of PPP hospital schemes in the country, was still on the block but admitted that it was now wondering whether to keep certain parts of it.
The country's second biggest builder also announced that it has secured a further loan facility of £140m in addition to the same amount that had been agreed with its five main banks when it announced its results at the end of September.
It added the new facilities and agreed deferrals will help it give it between £170m and £190m of "headroom" throughout 2018.
Keith Cochrane, interim chief executive at Carillion, said: "Today we are announcing progress on a number of fronts and whilst our customers and creditors continue to be supportive, much remains to be done.
"We remain focused on executing our disposals and cost savings programmes while continuing our discussions with our lenders and other stakeholders to explore further ways of strengthening Carillion's balance sheet."
The firm also announced a number of recent contract wins including a £200m scheme to roll out a fibre broadband network across Devon and Somerset along with a £105m scheme for its Al Futtaim joint venture in Dubai to build a residential complex at Dubai Creek Harbour for developer Emaaar Properties.