Shareholder said to be questioning other companies audited by KPMG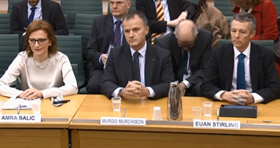 A number of Carillion's large investors have laid into the performance of the failed contractor's external auditor KPMG in Westminster today.
Murdo Murchison, chairman of Kiltearn Partners (pictured centre), told the MPs on the joint Business and Working Pensions' committee that he was now wary of all accounts audited by the Big Four accountant.
Quizzed by MPs on the committee, which is leading the enquiry into the collapsed firm, he said: "We have looked at our portfolio and we have two other UK-listed companies that have KPMG as there auditor.
"I now have two draft letters on my desk to write to the chairman of the audit committee at both companies asking for confidence from them that they are comfortable with the quality of service they are receiving.
"I'm extremely frustrated with the audit performance here. We rely heavily on audited financials."
Murchison said that given the scale of money lost by investors, "the folks closest to the scene of the crime" had a case to answer.
He said: "I remain puzzled by the fact someone could be six weeks in a job and discover material issues with contracts that have been approved by accountants that we are now told are sloppy. These appear internally to be issues that were hidden in plain sight but were not evident to the auditors. That is a puzzle that is yet to be solved."
Murchison also said the fact that KPMG had been doing the Carillion's audits since 1999 highlighted a need to address the length of time an auditor could stay with a company.
Amra Balic, managing director at Blackrock, agreed the write-down and subsequent collapse had come as a shock on the back of KPMG's audited reports.
She said: "In this case this was a company that was solvent, not just this but it had audited financial statements that gave investors confidence it was a going concern.
"There was also a chairman's statement and a corporate governance statement at the front of the annual report that painted a positive picture. We were surprised. I think everyone was surprised."