MPs told directors believed a refinancing deal would be in place by end of January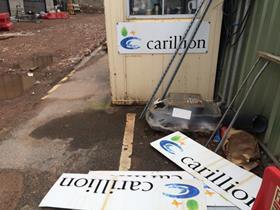 Carillion's pensioners were receiving reassurances about the future of the company a little over 12 hours before it went bust.
A committee of MPs heard today that Robin Ellison, chair of Trustees of Carillion's Defined Benefit Pension Scheme, met with the collapsed contractor's directors on the Sunday afternoon during talks with the firm's banks about a refinancing deal.
The firm told the Stock Exchange it had gone into liquidation the following morning but Ellison said: "The impression they gave me was that they felt that if they could get over the cashflow issue they thought that by the end of the month they would have refinanced the company.
"I believe that they believed that they had a plan for the survival of the company which was manageable. In the end it wasn't."
Ellison also told a joint inquiry into Carillion's collapse being conducted by the business and work and pensions select committees that banks had told Carillion bosses last September they would not pump more money into the business if it ended being swallowed up by the estimated £600m pension deficit.
He added: "The call from the banks and all the financial community was that they weren't prepared to put money into the company to see it go into the pension scheme. They wanted to see it [go into] trading.
"So the question was would we take a hit for a period of time to allow the company to bridge its cash flow problem?"
Also facing MPs was the chief executive of corporate governance watchdog the Financial Reporting Council (FRC), which yesterday launched an investigation into KPMG's auditing of Carillion accounts.
It will be the FRC's largest ever probe and will cover the years ended 31 December 2014, 2015 and 2016 and additional audit work carried out during 2017.
But Labour MP Peter Kyle, a member of the business committee, told FRC chief executive Stephen Hadrill "the FRC has been useless when it comes to Carillion". Hadrill admitted: "I think our powers in relation to enforcement should be looked at."
MPs were also told that Carillion was forced into compulsory liquidation because potential liquidators were worried there was not enough money left in the bank to pay them.
Insolvency Service chief executive Sarah Albon said: "Generally speaking in large companies which fail, whether they go through a form of liquidation or administration, there is sufficient funds in the company to pay for the costs of the winding up.
"The reason that, uniquely, a listed company of this size and scale has gone through compulsory liquidation is because there was not an insolvency practitioner who was prepared to take on the administration because there was insufficient certainty that there was enough money left in the company to pay their costs."
MPs will next week hear from a number of former directors including former chief executive Richard Howson, previous finance director Richard Adam and chairman Phillip Green. Also set to appear will be former Carillion finance director Zafar Khan, who replaced Adam after he retired at the end of 2016, and who had been down to appear at today's hearing.