Carillion shot to the top of the contractor's league table last month after winning the highly-prized £350m first phase of the Battersea Power Station development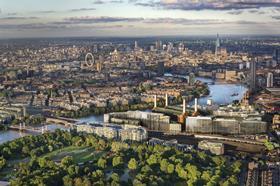 The win saw the firm surge to the top of the contractors league table, including civils, ahead of Bam, which moved into second place, up from fifth last month, with a £305m haul that included the high-profile £33m job to build the University of Manchester's institute for research into the wonder material graphene.
The Battersea job, which formed the bulk of Carillion's £354m contract wins, propelled the firm to the top of the contractors league table, excluding civils, up from 14th place last month.
Meanwhile, Kier rose to the top of the yearly work won, excluding civils table, after securing £273m of contracts last month, with long-time leader Laing O'Rourke falling into second place.
Overall the CPA/Barbour ABI construction index fell from 121 last month to 117 - equivalent to a 3% drop.
This came after the index rose 8% in April, after months of decline.
Noble Francis, CPA economics director, said: "Construction certainly isn't buoyant but there are at least some key sectors where there is some growth."
For the full league tables click here >>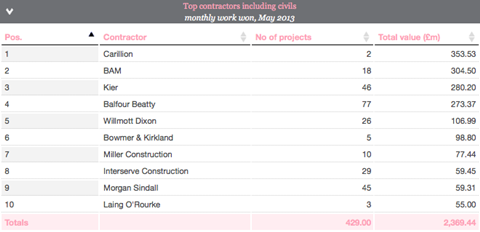 Correction: This story replaces an earlier version of the article, published on 19 June 2013, in which, due to an error in data provided, it was wrongly reported that Van Oord had won £650m worth of work on the Swansea tidal energy lagoon scheme. In fact, Van Oord is an active partner in the consortium which is studying how to realize the tidal lagoon.