Bust firm was rail group's second biggest maintenance contractor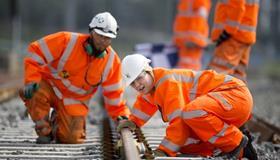 Carillion employees working on jobs for Network Rail have been told their wages will be paid for at least another three months.
Liquidator PwC said it had reached an agreement with the network operator meaning wages for Carillion staff working on Network Rail's projects will be paid until after Easter.
Carillion was Network Rail's second biggest provider of maintenance services before its collapse.
Arrangements have also been made to ensure all employees of the failed contractor working on Network Rail projects during January will be paid as well. Network Rail said all Carillion employees working on its projects should turn up for work as normal.
PwC also confirmed Carillion suppliers on Network Rail jobs would be paid for work since the contractor went bust on Monday.
But the liquidator said it couldn't provide any guarantees about unpaid invoices for work done for Network Rail before the firm went under.
Carillion continued to win Network Rail deals as its financial situation worsened, landing a £260m contract for the Midland Mainline Electrification programme as recently as November.