Hub will close tomorrow after core funders refused to put more money in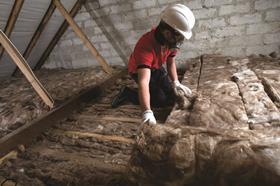 A body set up to advise government and housebuilders on zero-carbon homes will close after running out of money.
The Zero Carbon Hub, a public private partnership created during the last Labour government in 2008 to help deliver zero-carbon homes, will close tomorrow (Thursday) after its board members refused to carry on funding the organisation.
It will be put into a dormant state with its office in London to close, but the hub's website will be maintained. An official announcement confirming the news was issued today, along with confirmation industry funding for the body has been pulled.
Managing director Rob Pannell told Building the hub could be resurrected if the government takes an interest in zero carbon policy again, or if a new Labour government comes in.
He said: "If the government wants to look at zero carbon policy again, or someone like a Labour government comes in, the industry will reinstate [the Zero Carbon Hub].
"But there's no funding available to carry it on. It will become a dormant business."
Firms who worked with the Zero Carbon Hub have expressed their disappointment at its closure.
Andrew Orriss, head of business development at SIG360 - a division of products supplier SIG which contributed to the hub's research - said he was "extremely disappointed" over the "inevitable" decision.
He said: "Unfortunately, the closure of Zero Carbon Hub was inevitable given that the current government has a very weak carbon agenda.
"As well as the scrapping of the Green Deal and the time extensions to the Energy Companies Obligation, there is clear lack of commitment to improve the energy efficiency of UK homes."
Orriss said he hopes the industry can continue the work done by the organisation on energy efficiency and building standards.
The hub worked with the coalition government and the construction industry to create an official definition for zero-carbon homes, meaning they could be delivered by mainstream housebuilders and meet the government's target for all new homes built from 2016 to be zero carbon.
But chancellor George Osborne scrapped the policy in July's summer Budget and also shelved the target for all new non-domestic buildings to be zero carbon from 2019.
The hub's core funders, who sat on its board, were the UKGBC, the Construction Products Association, Homes and the Communities Agency, Local Government Association, National House-Building Council, Home Builders Federation and Robust Details Ltd.
The Department for Communities and Local Government was also represented on the board.
In the nine months since Osborne's announcement, Zero Carbon Hub was forced to focus on overheating in homes and the energy performance gap - the difference between a building's designed energy performance and actual performance.
The hub, headed by Pannell, had written to communities secretary Greg Clark and energy secretary Amber Rudd to appeal for more support, but both were understood to have turned down funding.