Award of major government framework now to be over three years late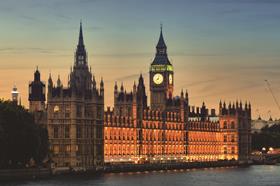 The government's troubled £2.9bn flagship Project Management and Full Design Team Services framework has been delayed yet again.
The publication of the OJEU and invitation to tender had been scheduled to go out by the end of January with the framework to be awarded in May this year, but in an update published today the OJEU is now scheduled to go out in April with the framework awarded and going live in August – over three years later than originally planned.
Since public sector buying arm the Crown Commercial Service (CCS) took over the framework in November 2014 - after its procurement partner UK SBS cancelled the previous procurement process amid a storm of criticism that saw then-failed bidder Turner & Townsend challenge the framework in the High Court - it has been delayed several times.
The CCS attributed a previous delay in October due to "several complex projects" also being procured, "including HS2, CrossRail2 (sic) and the Palace of Westminster refurbishment".
In an email sent to potential bidders for the framework the CCS project management team admitted they had found re-establishing the project management and full design team services framework "challenging given the ambitious timescales we initially set ourselves".
The team therefore decided to revise the planned timescales, adding "additional technical resource" will be brought in to ensure the framework can be delivered as quickly as possible.
The new timetable, the email said, would also allow the team to ensure that the framework is fully aligned wider construction strategy, which is being developed in parallel.
The CCS team added they also wanted to provide prospective bidders with "sufficient time to provide high quality bids, which is essential if we are to ensure we provide value for money for our customers".
"As this is a pivotal procurement for the public sector and our main priority is to ensure the best commercial outcome for both customers and suppliers, we have taken the decision to revise the project timescales to ensure suppliers can provide a quality bid," the CCS added.
The delay follows the late autmn restructuring of the framework into seven lots down from a 23 lot structure that was revealed in August.
The government has been contacted for comment.