Philip Hammond also announces £300m railway spending for north of England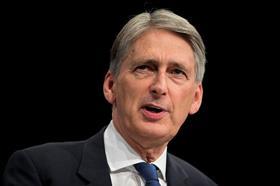 Philip Hammond, the Chancellor of the Exchequer, has confirmed the government will top-up the 'Help To Buy' scheme with a futher £10bn of funding and spend £300m to "future-proof" the railway network in the north of England.
Speaking at the Conservative party's annual conference in Manchester today, Hammond (pictured) said the government planned to "open up derelict land for development for housing and for jobs…and connect our communities to make them more productive.
Hammond announced an extra £10bn in funding to provide loans under 'Help To Buy' through to 2021, when the scheme expires.
He said the move would help an estimated 130,000 more homebuyers over the next few years, doubling the number of people who had used the scheme to buy their own home since Help To Buy was introduced by Hammond's predecessor, George Osborne, in 2013.
However Hammond did not commit the government to extending 'Help To Buy' past 2021, something many in the housebuilding sector have been calling for, including the Home Builders Federation.
He did announce a further £300m to future-proof the railway network in the north, "ensuring HS2 infrastructure can link up with future Northern Powerhouse and Midlands Rail projects while keeping open all options for services through Manchester Piccadilly".