George Osborne hails £100bn infrastructure plan and announces massive cut to communities department's capital budget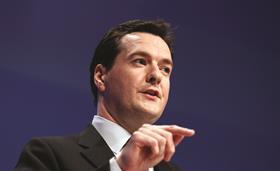 Chancellor George Osborne today hailed a £100bn infrastructure plan featuring a focus on road building.
Setting out his spending review in parliament today, Osborne committed to £50bn of capital investment in 2015 and a long-term £100bn infrastructure programme from "roads to railways, bridges to broadband, science to schools".
As announced in the Budget in March, Osborne said the government would reduce current spending by £11.5bn in 2015-16, allowing it to increase capital spending plans by £3bn a year from 2015-16 and by £18bn over the next parliament.
"We are already massively expanding investment on road schemes. This is the largest programme of investment in our roads for half a century," he said.
"We're committing to largest investment in railways since the Victorian era."
Further details on the infrastructure investment will be set out by Treasury secretary Danny Alexander tomorrow.
The chancellor also promised to set up a £2bn a year local growth fund.
But the overall capital budget for the Department for Communities and Local Government (CLG) – the main source of government spending on affordable housing - will fall from £4.8bn in 2014/15 to £3.1bn in 2015/16 - a cut of 36% year-on year and a fall of 26% compared to this year's level
Spending review 2015/16: Cuts to key departments capital budgets
DCLG £3.1bn -35.6% (on 2014/15)
Justice £0.4bn +14.2%
Transport £9.5bn +5.5%
Education £4.6bn Flat
NHS (Health) £4.7bn Flat
Other major announcements in the statement:
the government would fund a feasibility study into a £12bn Crossrail 2 train line connecting north and south London
education capital spending will rise with a pledge to fund 180 new free schools in 2015/16, 20 new studio schools and 20 new university techical colleges
consult this summer on options for major reform of apprenticeships funding
to place purchasing power directly in the hands of employers
£1.3bn for capital investment in the Green Investment Bank in 2015/16 - £800m of which is new money
signing off of HS2 rail line between London and Birmingham