Training body 'completely committed to reform', says chief executive
The Construction Industry Training Board (CITB) has pledged to respond to demands from the sector to reform, after it revealed that 76.9% of employers across the UK had voted in favour of the proposed levy in its recent consensus survey.
The results were announced after the conclusion of the CITB's triennial consensus period, which saw a number of leading construction companies and trade organisations, including Build UK, backing the levy, albeit at the price of reform.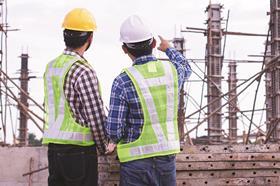 The near-77% score of firms, by volume, ticking the box in favour of the levy is down on 2014's poll, when it was 84%, and also lower than the outcome in 2011, when it was 88%.
The CITB said that 10 of the country's 14 federations voted in favour of the proposed levy rate of 0.35% for PAYE employers, down from 0.5%, while the subcontractor NET CIS rate remains at 1.25%.
Sarah Beale, the CITB's chief executive, said that after what had been a "rigorous, robust and inclusive" survey process, her organisation had been backed by the industry and had "heard the calls for change loud and clear".
"Be assured that we will continue listening to industry and along with recommendations from the government's upcoming review into industry training boards, will use all we learn to inform our reform process," she added.
"We are completely committed to modernising our organisation by renewing governance, ensuring accountability and improving outcomes. It is what industry expects and we will deliver."
A number of organisations and individual companies had given their qualified support for the CITB in recent weeks, while the Home Builders Federation was the most prominent body to give it the thumbs down, arguing that the figure of 89% of its members voting against the levy was "very clearly a vote of 'no confidence' in the current operation".
Other bodies rejecting the proposal were the Finishes and Interiors Sector; the Scottish Building Federation, and the Scottish Decorators Federation.
The CITB's poll found that 74.2% of large and medium-sized firms, together with 75.9% of small firms, voted in favour of the proposed levy.
Mark Farmer, chief executive of the Cast Consultancy, and author of a report on modernisation issues in the construction sector, said: "I've made it clear the future of the industry has to be very different; that means CITB must be very different too.
"We've seen some positive signs from CITB, particularly with the reports around immersive learning and offsite construction. Now we need to see the big changes that are going to make our industry's training body fit for purpose long term."
The results of the consensus will now be sent to the Department for Education for approval, with the new levy order then being put before Parliament for MP's to consider.