Organisations behind industry skills card scheme work on new agreement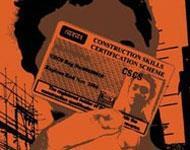 The two organisations behind the industry's CSCS skills card scheme have resolved to work to overcome their commercial differences and draw up a new agreement.
The future of the CSCS scheme – which is used by 1.6 million workers – was thrown into doubt last year after administrator CITB-ConstructionSkills served the scheme's owner CSCS Ltd with a termination notice on its contract.
CITB-ConstructionSkills has now confirmed it has suspended its termination notice and the two organisations have begun to negotiate terms for a new contract.
Mark Farrar, chief executive of CITB-ConstructionSkills, said: "Last year, we were concerned about the direction that the CSCS management board had taken the industry's certification card scheme.
"As a result, CITB-ConstructionSkills believed it had no alternative, but to serve notice to terminate its contract with CSCS.
"This year however, with a change of governance, we have been working with CSCS to address some of the concerns we had last year.
"We are encouraged by the steps that the organisation's new management team is making - not least in making changes to the Green Card and working with CITB-ConstructionSkills to realise efficiencies in administering the card.
"As the Industry Training Board and leading Sector Skills Council for construction, we are working to add value as part of our commitment to industry.
"To enable both organisations to focus on a new agreement without the distraction of historic issues, CITB-ConstructionSkills has suspended the notice previously given to CSCS Ltd and is working to negotiate the terms of a new contract.
"We look forward to working together with CSCS, to ensure we continue to meet the needs of industry."
Graham Wren, chief executive of CSCS said: "I am extremely pleased with the progress we have made with CITB-ConstructionSkills over the last few months.
"Both organisations share the same stakeholders and we are now working closely together and more importantly investing in the scheme, and its infrastructure, to support the industry in the future."