Deloitte London Office Crane Survey points to upcoming space shortages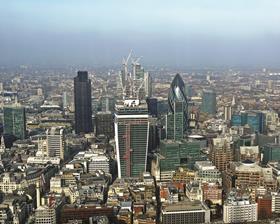 Office construction in the City of London has reached a five-year high, according to the latest Deloitte Real Estate London Office Crane Survey.
Over five million sq ft of offices are being developed across 23 schemes in the Square Mile, including major schemes 5 Broadgate, the Walkie Talkie, Bloomberg Place and the Cheesegrater.
The central London office development market as a whole – including the West End, Soutbank, Midtown, King's Cross, Docklands and Paddington – remained at a four year high with 9.7 million sq ft across 71 schemes now under construction.
Next year a decade-high 6.6 million sq ft of office developments will be completed in central London.
Despite the growth in supply next year, Anthony Duggan, head of research at Deloitte Real Estate, said he did not expect a significant oversupply.
He said: "There are strong indications that tenants will commit to this space during construction and so the amount being delivered into the market and available to lease will continue to reduce."
Around a third of next year's office developments are already leased to tenants prior to completion, demonstrating increasing occupier confidence, Deloitte said.
Available space in the City is now at a five-year low having fallen from four million sq ft to just 1.4 million.
Demand for grade A space is expected to hit its highest level for three years in 2013 and Deloitte predicts there will be a shortage of grade A space the next 18-24 months, further driving rental growth in the City market.
Total construction activity fell 36% in the West End, with 1.5 million sq ft on site, while the focus shifted from areas like Oxford Street and Victoria to Mayfair and St James.
In Midtown, a term describing the area between the City of London and the West End, there was a 47% rise in construction and 1.1 million sq ft now underway.
Duggan adds: "This latest report reflects the improving confidence being seen from both office occupiers and developers. Leasing activity of new space has increased and construction remains active with 28 new schemes on site this survey.
"We are now seeing rents move forward again following a pause over the last couple of years and this prospect, along with continued appetite from investors for prime stock and the improving economic outlook, will encourage further development starts over the next six to 12 months."