The contractor was axed from the project in April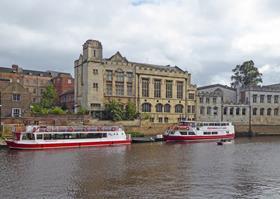 City of York council has begun the search for a new contractor to complete the
Interserve was sacked from the £9m contract in April, after the first portion of the two-stage contract came in over budget.
In a prior information notice published to the Official Journal of the European Union, the council said it was looking for "a construction company who have the relevant experience working with Grade I-listed buildings and the demolition and construction of contemporary buildings within a confined city centre location, with a view to the successful contractor undertaking the refurbishment and extension of the Guildhall complex".
At the time of Interserve's axing the council said: "The contract had two stages, with the first phase providing a detailed build specification and a target cost which if agreed would lead to the letting of the construction contract.
"The first phase has now completed and the council has reflected on the current approach to developing this complex and historic site. As a result, the construction phase will not progress and instead, the council will consider options before inviting new bids from the market."
Neil Ferris, director of economy and place at the council, said the contract had been set up to include a break point after the first stage of the contract in accordance with government procurement rules. Interserve declined to comment at the time.
The new contract is expected to run for 18 months but the council did not specify its value. The process of awarding the contract is due to start in January next year.