The City has been understanding of the many companies that had a look - and then recoiled - at failed contractor Rok last week. Even Mears, which was the first off the mark to salivate over Rok's remains, but then perhaps wisely decided it didn't fancy the prospect, managed to finish the 10 days since Rok failed up a smidgen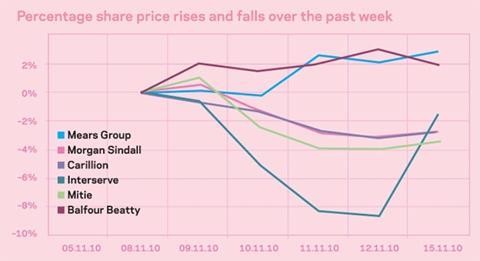 "Mears and Rok wasn't such an obvious fit, so the markets have shrugged it off," says KBC Peel Hunt's Andrew Nussey of Mears' volte-face.
Perhaps the circling scavengers took a nervous backward glance at Morgan Sindall, whose price dipped after it admitted on 9 November that it had only gained £142m of revenue, £60m less than expected, from its £28m deal to acquire almost 100 Connaught contracts in September.
Obviously not a firm to be twice shy, John Morgan's company also ran the rule over Rok in the fortnight before its demise, but did not like the amount of debt it saw. Not hugely surprising, says Andrew Brown of Panmure Gordon, as executives "didn't quite have their hands full with Connaught, but they need some time to sort those contracts out".
Meanwhile, insiders are adamant that there is nothing in rumours that Apollo is being readied for a sale in the new year by a Pricewaterhouse Coopers team. The consultant has completed a strategy review of the company, according to a source close to the review, and is retained as adviser, but selling off the business is "not really an option" and the company is in good shape. "They're waiting for the market to calm itself down and sort itself out," he says.
Elsewhere, an optimistic statement was issued to the City from Interserve, who predicted a better second half of the year. This steadied the jitters that had afflicted its share price earlier in the week. "There was definite relief," says Nussey, "but most observers will be more interested to see how 2011 pans out. This year has been discounted already, but in 2011, the question is what the dividend will be."