Costain took the biggest hit from the City this past week, and understandably so
The revelation that Austrian contractor AE&E Inova had filed for insolvency - owing Costain £22m in already booked revenue - sent the contractor's shares into a dive, dropping from 210p to 196p in a day as the City digested the news.
One City analyst felt more than a little miffed by the firm's former attitude of breezy confidence. "What we took from [chief executive] Andrew Wyllie was that energy-to-waste was the big go-go sector and that they couldn't lose money," he griped.
"We've all had clients go bust. But when they talked about this sector it was as though they couldn't lose."
The underlying company, however, is sound, commented Cenkos analyst Kevin Cammack in his extensive note on the subject. "Three years ago this would have [been a problem] for sure; Costain's balance sheet was weaker, the management untested and the strategy vague.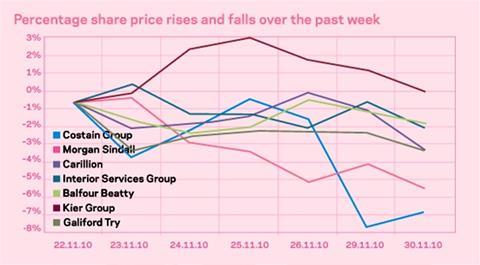 "The good news today, and testimony to the improvements the management has delivered, is that the group can take this on the chin, without repercussion."
Others are not so sure about Costain's management, particularly about one Andrew Wyllie. "He's got this slightly larger than life attitude," one watcher commented. "The
last thing you need as a relatively small contractor is an ego. And I think he's got an ego." Garvis Snook, anyone?
For Costain's competitors, the only direction since the weekend has been down, dampened by the reality of the Irish bailout and fears over much larger eurozone dominos toppling - not to mention the prospect of nuclear war in Korea.
However, our analyst is being kept awake at night by the prospect of Spain defaulting like Ireland. "Korea was a bit of a damp squib," he says. "I'm much more worried about
Spain defaulting. If that happens then it's total meltdown." And who says analysts are too focused on the markets?