Work expected to start next month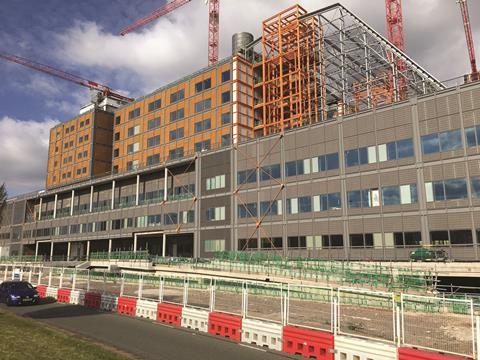 The NHS trust managing the Birmingham hospital job left stranded by Carillion's collapse is having to carry out tests to make sure the cladding fitted on the job is up to scratch.
Papers published ahead of yesterday's board meeting of the Sandwell and West Birmingham Hospitals NHS Trust said the work was being done to make sure the three types of cladding installed met building regulations.
The trust admitted the first type of cladding would "definitely fail" safety tests, the second "probably fail" while the third would "possibly pass".
Testing will begin next month although the papers said trust chief executive Toby Lewis said "the timeframe should ideally be brought forward".
But despite warnings about the fitness of the cladding made in the board papers, a trust spokesperson said it remained confident all cladding would meet fire safety standards.
She said: "While specialist feedback and the outcome of similar tests suggest that all treatments will pass, the trust has considered it prudent to include options (and the associated budget) within the ongoing procurement that can be quickly instructed in the unlikely event any test fails."
Issues with cladding have also emerged at the Liverpool hospital Carillion was building before it collapsed – with a review by Arup last September finding cladding at the Royal Liverpool hospital was not compliant with building regulations.