Firm to build on the Abbey Wharf site in Alperton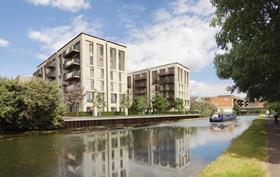 Clarion Housing Group has unveiled plans to build 135 homes in Alperton, north-west London in a move it says is aimed at buyers currently locked out of the housing market.
The firm secured the 0.76ha Abbey Wharf site from Inland Homes to build 111 shared ownership homes, 24 for affordable rent and two commercial units.
This site has planning permission with the development expected to be completed in spring 2020.
Philip Browne, new business and partnerships director for Clarion, said: "As one of the mayor's housing zones, Alperton is set to benefit from a significant increase in housebuilding over the next few years.
"Our scheme at Abbey Wharf will transform a disused industrial site into affordable homes and forms part of the wider plans to regenerate Alperton."
Clarion said around 3,000 new homes are expected to be built in Alperton by 2025, a third of which will be affordable.