Group's co-chair warned dwindling number of HGV drivers now risk delaying projects
The Construction Leadership Council has joined calls for the government to add HGV drivers to the immigration system's shortage occupation list amid fears that a shortage of hauliers risks worsening materials shortages and delaying construction schedules.
The UK is currently facing a shortage of 60,000 HGV drivers according to the Road Haulage Association (RHA), with 15,000 European drivers having left this year, and 30,000 driver tests prevented due to the pandemic.
Backing the RHA's calls to improve access for drivers, the CLC said the shortage had worsened to the point that it is now delaying deliveries of construction products and inflating costs across the UK.
The group's co-chair Andy Mitchell said: "We now have a situation where we believe the government needs to intervene.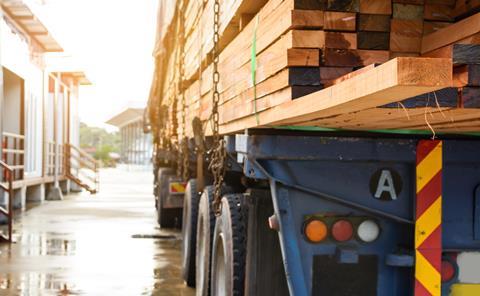 "Manufacturers, merchants and builders large and small are having products and materials delayed or not delivered and warn that it is having a knock-on effect on construction schedules and leading to higher build costs.
"Industry can only take this so far, and as government is also the largest client of construction services, we trust it will listen to the calls from all sectors to enable timely and appropriate reviews of the new immigration system."
The CLC also called for qualified drivers to be offered a seasonal visa scheme to boost numbers, and for other trades including specialist rig pilers to be added to the shortage occupation list.
Build UK chief executive Suzannah Nichol said: "We do not have all of the specialist skills we need for the volume of construction projects underway and those in the pipeline across the UK.
"The new immigration system is proving difficult to navigate, is costly and actually prevents many of the people with the skills construction needs from coming here to work."
And Federation of Master Builders chief executive Brian Berry said the shortage of HGV drivers is now adding to troubles faced by SMEs already struggling to find bricklayers and carpenters.
"Clearly what SME builders are experiencing is part of a larger problem, and we hope the Government addresses it with the big picture in mind."
The past three months has seen a 16% decline in the number of jobseekers applying for work in the construction sector, despite the number of vacancies increasing by 40%.