House builder seeks alternatives after government effectively rules out use of material on buildings 18m high or taller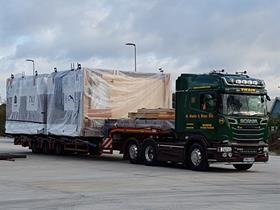 Swan, the Essex-based house builder and housing association, has admitted it is looking again at plans to build residential blocks taller than 18 metres using cross laminated timber after the government effectively ruled out the use of the material in high-rise developments.
Last November the government announced details of a ban on the use of combustible materials in buildings taller than 18 metres.
Swan's Nu Living arm opened a £3m modular factory in Basildon in January 2017 and began delivering residential units (pictured) built using CLT to a £130m regeneration scheme in Beechwood in Essex at the end of that year.
A spokesperson said the revised regulations did not affect any of its schemes currently in production and the firm was "fully satisfied" that CLT was an inherently safe product "that responded very well under fire conditions".
But he admitted: "Unfortunately, the blanket ban on combustible materials has had the possibly unintended consequence of banning a material that has been extensively tested and is used worldwide in high-rise construction.
"However, as always, Swan is committed to complying fully with legislation. We will therefore continue to innovate and intend to find a suitable modular solution for high rise buildings above 18 metres to comply with the revised building regulations."
The spokesperson said Swan would continue to build houses and lower rise properties using CLT.