Watchdog says planned purchase of SIG-owned Building Solutions could breach competition rules
The Competition & Markets Authority has raised questions over Kingspan's deal to buy insulation panel specialist Building Solutions from SIG for £37.5m.
The pair agreed the deal last October – subject to approval from the CMA.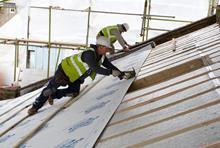 But the authority said the deal raises "competition concerns in the supply of specialist insulation panels".
It said Kingspan was the leading provider in the UK of standard foam sandwich panels, which are commonly used as insulated cladding on commercial and industrial buildings.
It added: "Kingspan already owns a number of businesses that supply these products in the UK.
"The CMA's Phase 1 investigation therefore found that the deal could leave the merging companies' customers, typically building contractors, with few alternative suppliers to choose from."
And its senior director Colin Raftery added: "Kingspan is by far the largest player in this market and this deal would involve it buying up one of its only two meaningful competitors. So, we're concerned that the deal could damage competition, resulting in higher prices or lower quality products."
The CMA said it was planning to refer the proposed deal to a phase 2 investigation.
According to CMA guidance, a phase 2 investigation can take up to 24 weeks.
It adds: "At Phase 2, a CMA panel of independent Members conducts an in-depth investigation to assess if a merger is expected to result in an SLC [substantial lessening of competition]. If an SLC is expected, the CMA decides upon the remedies required. Such remedies may include prohibiting the merger or requiring the divestiture (sale) of parts of the business."
Kingspan and SIG have five days to address the CMA's concerns or the deal will be referred to a phase 2.