Government has published its proposals for banning combustible cladding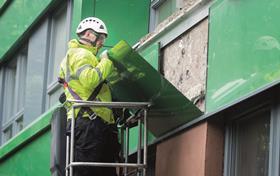 A ban on combustible cladding could add up to £75,000 to the build cost of high rise buildings, proposals published by the government say.
According to the government's consultation on banning the use of combustible cladding on buildings of more than 18m in height, which was launched yesterday, ensuring facade components have limited or no combustibility would come with additional build costs.
The consultation said: "Initial work has been undertaken to estimate the likely additional construction costs. For example, it is currently estimated that for a 15-storey new build requiring 1,700m2 of cladding, a wall system which comprises only materials of A2 will cost an additional £25,000-£75,000 per building."
The proposals published for consultation by housing secretary James Brokenshire suggest making changes to legislation, meaning failure to comply would be open to prosecution in a Magistrates' Court, who would have the power to impose an unlimited fine.
The government said it thought consulting was the right thing to do as a ban would "make routes to compliance clearer which reduces the risk of unintentional non-compliance".
Under the proposals, materials would need to have a combustibility rating of A2 or better under the European Classification, which classifies the combustibility of construction products from Class A to Class E.
References to the British Standard would be removed from building regulations, meaning the BS 8414 test would be made redundant.
Any change would not apply to existing buildings where no work was being carried out. At these buildings, a case-by-case, risk-based approach to fire safety would be recommended.
The changes being proposed under the consultation would also remove the option for developers to use desktop studies, regardless of recommendations made by the government's consultation on the controversial route to compliance, which closed on 25 May.
Other issues that the consultation suggested needed to be taken into account when considering a ban were whether it would be more difficult to achieve standards for fabric efficiency if certain materials were banned and whether a ban may reduce the scope for innovation development of certain building materials.
The combustible cladding consultation is set to close on 14 August.
Consultation questions
Question 3
a. Do you agree that combustible materials in cladding systems should be banned?
b. Should the ban be implemented through changes to the law?
c. If no, how else could the ban be achieved?
Question 4
Do you agree that the ban should apply:
a. to buildings 18m or over in height?
b. throughout the entire height of the wall, i.e. both below and above 18m?
c. to high-rise residential buildings only?
d. to all high-rise, non-residential buildings e.g. offices and other buildings, as well as residential buildings?
e. Please provide any further information in relation to your answers above.
Question 5
a. Do you agree that the European classification system should be used and do you consider that Class A2 or better is the correct classification for materials to be used in wall construction?
b. If no, what class should be allowed in wall construction and why?
Question 6
a. Do you agree that a ban should cover the entire wall construction?
b. If no, what aspects of the wall should it cover?
c. Should a ban also cover window spandrels, balconies, brise soleil, and similar building elements?
c. Please provide any further information in relation to your answers above.
Question 7
a. Do you agree that a limited number of wall system components should, by exception, be exempted from the proposed ban?
b. If yes, what components should be included on an exemption list and what conditions should be imposed on their use?
c. Would you recommend an alternative way of achieving the policy aims stated above?
Question 8
Do you agree that:
a. a risk-based approach is appropriate for existing buildings?
b. the ban should apply to alterations to existing buildings, including overcladding?
c. the ban should extend to projects that have been notified before the ban takes effect but work has not begun on site?
d. the ban should not affect projects where building work has already begun?
e. Please provide any further information in relation to your answers above.
Question 9
a. Which wall elements are likely to be affected by the proposed change – i.e. where they would pass as part of a cladding system in a BS8414 test but would not meet the proposed Class A2 or better requirement (e.g. sheathing boards or vapour barriers)?
b. We understand that since the Grenfell tower fire, a high proportion of relevant building work is already using elements which meet Class A2 or better. How frequently are elements which do not meet the proposed requirement, asi dentified in question 3, currently being used on buildings in scope?
c. What the impact of removing access to the BS8414 for those buildings affected by the ban test is likely to be?
d. What types of buildings 18m or over are likely to be affected by this change (e.g. hotels, residential, student accommodation)? What proportion of each type would likely be affected by the proposed change?
e. How much extra cost would typically be involved in meeting the proposed new requirements over and against a building which meets the current requirements?
f. Please provide any further comments on the likely impact of this change for construction (e.g. supply chains)
nb. Questions 1 and 2 relate to personal details of those contributing