The housing committee said ban should also cover hospitals, hotels and student accommodation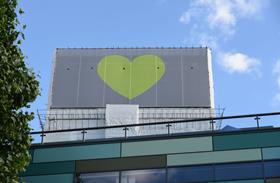 MPs on the housing committee have called for a ban on combustible cladding to be applied to existing high-rise buildings.
In its Independent review of building regulations and fire safety: next steps report, which explored the recommendations made by Dame Judith Hackitt, the committee welcomed government's intention to ban combustible cladding on new buildings over 18 metres but said it should go further.
The report, which was based on a series of oral evidence sessions with experts, said: "We believe such a ban should apply not only to new high-rise buildings, but also to existing buildings over 18m, as well as those currently under construction. People in all high-rise residential buildings need to have certainty that their homes are safe.
"Further, the ban should apply to non-residential buildings where there is a particular and significant risk to life, such as residential homes, hospitals, student accommodation and hotels."
The committee, which is chaired by Labour MP Clive Betts, said that once the consultation wrapped up the government would need to "as a matter of the greatest urgency bring forward the ban on the use of combustible materials in the cladding of these buildings".
The report also recommends that government foot the bill for the replacement of cladding on these buildings if they were built in line with regulations at the time.
It said: "The government should fully fund the replacement of any cladding on existing buildings which had been permitted, but is subsequently banned as a consequence of the consultation. In those circumstances, this funding should be made available to both public and private sector landlords."
The report also recommended that where structurally feasible, sprinklers should be retro-fitted to existing high-rise residential buildings to provide an extra layer of safety for residents.
It said the government should make funding available to fit sprinklers into council and housing association-owned residential buildings above 18m, and issue guidance to that affect to building owners in the private sector.
It also recommended the government should undertake a consultation into whether it is also appropriate to require the installation of sprinkler systems in a wider range of buildings, including student accommodation, hospitals and large commercial warehouses.