Fit out firm bought for £42.5m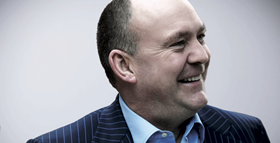 Fit out firm Styles & Wood has been bought by a company run by a businessman once linked to a takeover of Leeds United.
The Manchester-based firm has been snapped up for £42.5m by Central Square Holdings, an investment vehicle of Steve Parkin.
Parkin (pictured), who is the executive chairman of Leeds-based logistics firm Clipper, which floated in 2014, was linked with a £30m deal for his boyhood club back in 2015 but the Championship side is now owned by Italian businessman Andrea Radrizzani.
This morning's news will see Styles & Wood become part of a group that also owns Leeds-based Southerns, a £44m turnover furniture, fittings, and equipment specialist, in which CSHL has a controlling stake.
For the year to 31 December 2016, Styles & Wood reported a turnover of £104.7m and a pre-tax profit of £3.5m.
Once the deal is wrapped up, Styles & Wood's leadership will remain in place, including Tony Lenehan as chief executive and Philip Lanigan as chief financial officer. Current non-executive chairman Paul Mitchell will become the group's chairman, while Southerns' Andrew Kendall-Jones will become executive director.
Along with its main office, Styles & Wood, which has been going since the early 1980s, has offices in London and Nottingham.