New orders up by 4.4% in final three months of 2019
The construction sector grew despite the political chaos at the end of 2019, new Office for National Statistics data has revealed.
Construction activity was up by 2.5% across the year compared to 2018, while new orders grew by 4.4% in the final three months of 2019 compared to the previous quarter.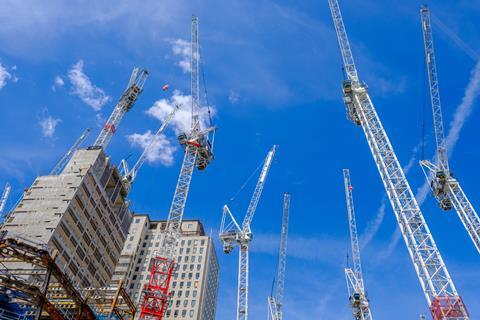 The figures, which were published by the ONS today, showed the sector grew by 0.5% in the fourth quarter, driven by a 0.8% increase in new work.
Although this was a slight slowdown compared to the preceding three months, Clive Docwra, managing director of consultant McBains, said: "More than anything, these figures reflect an underlying resilience in the sector – given that they cover a tumultuous political period at the end of 2019."
Mark Robinson, chief executive of Scape, said the growth coincided with the anticipated Conservative election win and greater clarity over Brexit, which was enough to encourage construction firms to push on with projects.
He said: "As we transition out of the EU, the key priorities for policy makers in the built environment must be to ensure that we create a legacy of world-class infrastructure that is fit for the future. So, it's important that we keep momentum in the infrastructure decision making process going."
The statistics were published while the industry waited for confirmation that the government was pushing ahead with HS2. An announcement is expected today.
The biggest growth areas were new public housing and private commercial, which increased by 8.4% and 2.5% respectively.
This was offset by a drop in new private housing of 1.1%, while growth in repair and maintenance fell by 0.1%.
Will Waller, build-to-rent market leader for Arcadis, said new residential orders had fallen away dramatically across 2019.
He added: "New residential orders were notably down in 2019 compared to the previous three years, a reflection of 'peak uncertainty' around Brexit undermining confidence."
But Waller said interest from buyers and investors had increased in the first few weeks of this year.