Lib Dem peer spells out implications of hard Brexit in marathon Lords debate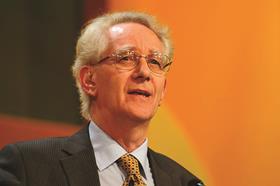 The peer supporting the Building a Better Brexit campaign last night attacked the government for downgrading construction to a low priority sector in its negotiation strategy.
Last night in the House of Lords Brexit Bill debate, Lord Andrew Stunell urged peers to reject the legislation in a fierce defence of the "so far completely ignored" construction industry.
Lord Stunell, former minister for building regulations, warned the UK would be "diminished and hamstrung" by leaving the EU.
The Lib Dem peer (pictured), who was the 179th speaker in a marathon 20-hour debate, part of which was attended by prime minister Theresa May, said that to deliver the government's infrastructure and housing commitments construction needed to expand by 35%.
But he said restrictions on immigration from the remaining 27 EU nations would make this impossible: "To deliver the government's hard Brexit policy, cutting all access to EU27 workers, would cause it to shrink by 9%."
In last night's speech, Lord Stunell said the government must allow existing EU workers to remain in the UK and added: "Just to maintain current construction output EU27 labour is essential, and the first step must be to safeguard the position of those already here if output is not to decline steeply."
A report out today by consultant Arcadis estimates that firms in the construction industry need to recruit more than two million staff in the next five years if the UK is to deliver the homes and infrastructure the country actually needs.
Lord Stunell also called for mutual recognition of standards and qualifications and a zero tariff on materials and construction products to maintain 'frictionless trade' with the EU.
He said: "UK construction projects benefit from the tariff-free flow of goods from the EU27, with one third of all materials and construction products, including 90% of timber, imported from them."
The government's Brexit Bill passed its second reading in the House of Lords last night and will now go to committee stage next week when peers can debate and vote on amendments.
At the start of the year, Building launched its Building a Better Brexit campaign with a survey of more than 2,000 readers.
The results of the survey revealed that construction wants the Brexit deal to include pledges to keep some form of free movement of labour as well as protecting the import and export of construction products from tariffs.
The survey results were shared with Lord Stunell to inform his review for the House of Lords into the implications of Brexit for construction.