Business confidence highest for almost a decade despite March slowdown in growth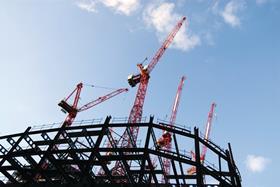 Construction business confidence has reached its highest level for almost a decade despite a slowdown in growth in March according to Markit/CIPS UK's latest Construction Purchasing Managers' Index (PMI).
Construction firms reported a strong degree of positive sentiment towards the outlook for business activity over the next 12 months, with the reading the highest since February 2006, despite a softening in output volumes.
Thee seasonally adjusted output index posted a score of 57.8 in March, down from 60.1 in February, and the lowest for three months, but still well above the 50.0 no-change value.
The PMI report also found that new business volumes rose at a strong pace last month, although the rate of expansion eased from February's four-month high.
Companies that reported an upturn in new orders generally cited improving economic conditions and greater underlying client demand. However, some construction firms noted that uncertainty related to the forthcoming general election had encouraged clients to delay spending decisions.
Tim Moore, senior economist at Markit and author of the PMI said: "UK construction output growth has settled in at a strong pace so far in 2015, although the recovery has lost some of its swagger since last year.
"All three main categories of construction activity saw a growth slowdown in March, in part reflecting softer new business gains as some clients delayed spending decisions ahead of the general election.
"However, UK construction companies are highly upbeat about their prospects for growth over the course of the next 12 months, helped by improving economic fundamentals, strong order books and a healthy pool of new invitations to tender."
Commenting on the survey results, Michael Conroy-Harris, a construction expert at law firm Eversheds, said he was concerned about over-confidence creeping into the construction sector.
He said: "There was always going to be dampening of activity before the general election, but it rings an alarm bell for me when I hear at the very same time about confidence being at a nine-year high.
"The industry would do well not to ignore the hot spots of sub-contractor and material availability as any supply chain is only as strong as its weakest link. Unless supply and demand are balanced, we'll be hearing about increasing numbers of problem projects."