Buyers blame election uncertainty for slowdown in construction output growth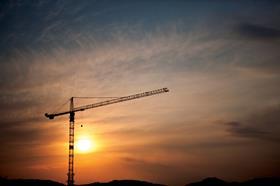 UK construction growth slowed to its slowest rate in 22 months in April, according to the latest Markit/CIPS survey of purchasing managers.
Both output and new orders expanded at their slowest rate since June 2013, with a number of respondents to the survey blaming uncertainty related to the forthcoming general election for delaying clients' spending decisions.
The headline construction output figure for April stood at 54.2, down from 57.8 in March, but still weighing in above the 50.0 mark that separates expansion from contraction.
Survey respondents reported a continued rise in job creation in the sector, but worsening capacity pressures. Subcontractor rates rose at their fastest rate since the survey began in April 1997.
Residential building was the best performer over the month, even though the pace of expansion here also slipped to a 22-month low. Growth in commercial construction work also slowed, while civil engineering activity decreased for the first time in four months.
Business confidence regarding the outlook for the next 12 months remained strong, but dipped from its nine-year high in March.
Tim Moore, senior economist at Markit, said that while growth had slowed, the survey painted a more positive picture of UK construction's health than the recently published ONS statistics, which stated construction output declined 1.6% over the first three months of this year.
Moore said: "The uncertain general election outcome appears to have put some grit in the wheels of decision making.
"Construction firms widely noted delays with clients' budget setting and a reduced propensity to commit to new projects.
"Despite experiencing pre-election risk aversion among clients in April, construction companies indicated a strong degree of confidence regarding the year-ahead outlook.
"Taken as a whole, the latest survey presents a far more upbeat picture than the curiously weak official construction output data [by the ONS] for the first quarter of 2015.
"Not only does [this] survey indicate that output remained in growth territory during April, but the latest data signals ongoing strains on operating capacity.
"Highlighting this, sub-contractor pay rates, a useful bellweather of industry pressures, increased at the fastest pace since the survey began 18 years ago."