Pressure group Stonewall criticises sector after no firms make its top 100 employers list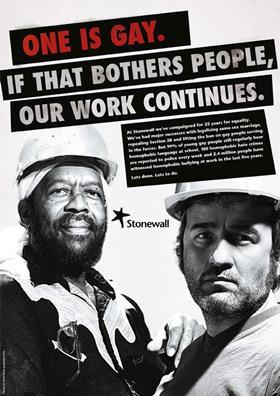 Construction firms perform poorly in terms of attracting and retaining gay, lesbian and bisexual staff, the pressure group Stonewall said this week.
Stonewall this week published its top 100 Employers 2014 list without a single construction company in it.
However, the year's top gay-friendly employer was named as Sunderland-based housing association Gentoo, the first time a housing sector employer has taken the top spot.
The top 100 index – the tenth published by Stonewall - is based on a range of key indicators such as policies on bullying and harassment, parental leave and firms' approach to procurement.
The process also includes a confidential questionnaire of lesbian, gay and bisexual staff, with over 9,700 participants which Stonewall says has consistently demonstrated that employees of top 100 firms show higher levels of staff satisfaction and loyalty.
Stonewall said it contacted the "majority" of major contractors in producing the list.
Client group manager at Stonewall, Chris Edwards, told Building: "Construction is definitely one of the lower performing sectors.
"If you make the comparison with law or accountancy, I think construction has an issue with missing out on talent and retaining talent."
Two major contractors, Lend Lease and Kier, have joined Stonewall's 'diversity champions' scheme with the aim of improving their diversity performance while engineer Arup is also working with the group.