Industry 'flatlined' last year, according to Barbour ABI figures
The value of all construction contracts awarded last year was almost £60bn.
There were just 9,500 contracts awarded in 2019, a 23% drop compared with a peak of 12,500 in 2015, according to the figures from Barbour ABI.
The overall contract value, which fell by 16% from 2017 to 2018, levelled off in 2019. Growth of 0.2% saw it reach a total of £59.9bn. This was 20% below the peak of £75bn awarded in 2015.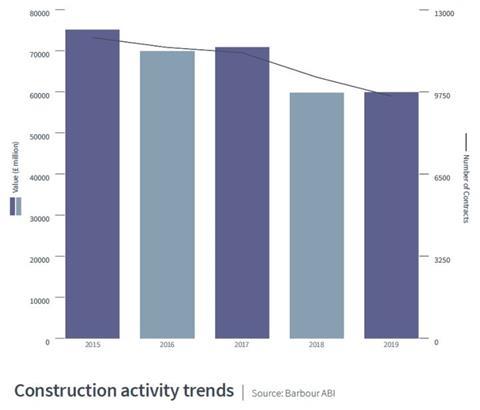 Tom Hall, Barbour's chief economist, said the figures showed that the industry had stagnated. "As we saw throughout 2019, development figures flatlined and a yearly round-up shows similar levels to 2018.
"With the date for the UK to leave the EU less than two weeks away, and the future of HS2 hanging in the balance, uncertainty continues to engulf the construction industry."
The most successful part of the country outside of London was the North-west, where 13.1% of contracts were awarded. This was closely followed by the South-east with 12.8%.
Work in the capital accounted for 22.3% of last year's contracts, an increase of 2.5% on 2018. Wales was responsible for the the least work, with 3.1%.
The residential sector maintained its position as the leading sector last year, accounting for 38.4% of all construction contract awards - 0.3% more than in 2018.
The second largest sector was infrastructure, which had a 17.3% share of all contracts awarded. This was 2% lower than in 2018.
The biggest contract awarded outside London was the £330m Manchester Town Hall redevelopment, which was won by Lendlease last January.