Markit/CIPS survey shows slight recovery after grim June figures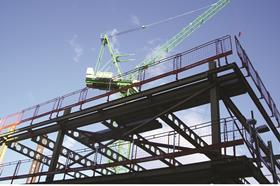 Construction orders recovered slightly in July after dropping at their fastest rate for two and a half years in June, according to the latest Markit/CIPS survey.
An increase in commercial work pushed the index up to 50.9 for the month, up from 48.2 in June.
Any score above 50 represents a growth in orders.
However the survey also recorded the second-fastest drop in new work for two-and-a-half years.
David Noble, chief executive of CIPS, said: "Last month's construction performance was so bad, that this month there was hope for a positive turnaround.
"There was some progress, with a slight boost in performance, but the external operating environment remains depressed.
"While the modest growth in July has been driven by the commercial sector, housing and civil engineering continue to lag.
"Worryingly, the sharp drop in new business means there is little chance of the sector rebounding quickly. However optimism remains, with increased employment and retention of subcontractors.
"Whilst this is encouraging, the relative stability of construction employment is partly a reflection of just how steep the job cuts were in the lead-up to the double-dip.
"Firms were hoping for a post-Olympics fillip; based on today's figures, the overall likelihood of that happening has dwindled."
Tim Moore, Senior Economist at Markit said: "July's survey offered little sign of an imminent rebound in the UK construction sector, with total activity rising only marginally after well documented temporary factors had weighed on output last month.
"Another drop in new orders, alongside wet weather conditions, meant a soft platform from which construction output could bounce in July.
"The pace of new order decline was one of the fastest seen in the past three years, and consequently there was just a meagre post-Jubilee expansion of activity levels.
"However, the survey shows that some construction firms are expecting, or at least hoping, that the sector will receive a shot in the arm during the next 12 months.
"A slow and gradual recovery remains most firms' base scenario, with some anticipating a boost from deferred projects going ahead later in the year.
"This in turn pushed business sentiment up from June's recent low and supported employment trends across the industry in July."
PwC's head of engineering and construction, Jonathan Hook, said the figures were a "slight reprieve" but did not mask the fact that construction was having a "tough 2012".
Hook added: "Any degree of optimism for the next year or two for the industry will be centred around a government stimulus package to get stalled projects moving using guarantees and other measures, as there is little sign of a return of private sector confidence."