But ONS revises up sector output for the fourth quarter of 2015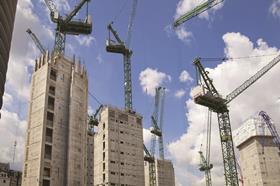 UK construction output took a surprising dip in January, dropping 0.2% compared to December, according to the latest set of ONS statistics for the sector.
However, the ONS revised up its estimate for construction output for the fourth quarter of 2015 by 0.7 percentage points. The sector is now estimated to have grown by 0.3% over the last three months of last year, rather than contracting by 0.4%.
The month-on-month dip in January surprised economists; their consensus forecast had been for a 0.3% rise in output.
Growth of 0.8% in repairs and maintenance was offset by an 0.8% fall in new work, the ONS said.
Within the new work category, decreases of 10.6% in public new housing and 8.6% in infrastructure was offset by increases of 4.7% in private commercial, 1.6% in public other new work, 0.7% in private industrial and 0.6% in private new housing.
Michael Dall, lead economist at Barbour ABI, commented: "This morning's construction figures taken at a headline level show a fall in output but it is important to note this is set against an upward revision of the previous Q4 2015 figures.
"So looking at the last 3 month's compared to the previous construction actually grew by 1.1%, suggesting the forecasters predictions of between 3% and 4% growth remain a good guide to the industry's prospects this year."
Industry leaders reacted to the figures with concern that a potential Brexit vote in June's EU referendum could already be dampening output.
Mark Robinson, chief executive of contracting authority Scape, commented: "Many companies in the construction sector employ a high proportion of skilled workers from Europe, and the prospect of an exacerbated skills crisis if we do leave the EU, is part of the reason behind the slow down reported today.
"This only increases the imperative to address the shortage of skilled construction workers in the UK and the construction industry must be vocal about the broad range of careers on offer and promote strong role models."
Michael Thirkettle, chief executive of consultant McBains Cooper, commented: "We are seeing the uncertainty around Brexit delay investment decisions, which is dampening the market. At the same time, the sector is desperately short of skilled workers – particularly bricklayers, carpenters and electricians.
"If the UK leaves the EU, construction companies fear they would lose access to the pool of skills from Europe that they are relying on – making a bad situation worse."