Output falls 4% month-month but longer-term trend remains positive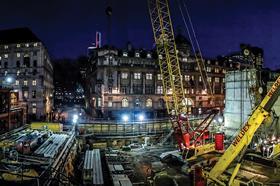 The construction industry's recovery stalled slightly in November, with output falling 4% month-on-month, although the overall trend remains positive, the latest official growth figures have revealed.
The Office for National Statistics construction output figures for November 2013 showed output fell 4% when comparing November 2013 with October 2013, with the fall driven by a 7.1% decline - equivalent to £140m - in commercial work. There was also a 3.2% month-on-month fall in private new housing and a 4.8% fall in new infrastructure.
When comparing the three months to November with the previous three months output was relatively flat, with growth of 0.7%.
However, the longer-term growth picture remained positive, with output up 2.2% when comparing November 2013 with November 2012, the sixth consecutive month of year-on-year increases.
Year-on-year growth was driven by a 14% spike in private housing and a 20% increase in public sector housing, while commercial work, construction's largest sector, was up 6.4%.
When comparing the three months to November with the same period a year ago, output was up 5.1%.
Simon Rawlinson, head of strategic research and insight at EC Harris, said the figures were "disappointing".
He added: "The figures are a useful reminder that recovery will not be a smooth progression.
"Despite the lower level of activity recorded in November, the medium term rate of growth has been sustained.
"Given talk about shortages of labour and material - a steady, sustained rate of growth is what the industry needs - so let's not take one month's strong or weak data out of context.
"Where today's data could have [an impact] is on 4th Quarter GDP - which may not end up being quite as sparkling as some analysts have suggested."
Steve McGuckin, UK managing director of Turner & Townsend said: "The industry grew steadily in the second half of 2013, so the news that its momentum faded a touch in November is a surprise rather than a shock.
"Such a modest dip in monthly output is unlikely to interrupt the construction industry's upward trajectory.
"The 3.2% month-on-month decline in private sector housebuilding comes after stellar performance in preceding months.
"The quarter-on-quarter numbers continue to march upward, and the pipeline of new orders remains strong.
"Confidence is buoyant too - and last week's PMI survey showed that sector sentiment remains close to the six-year high it posted a month before.
"Headhunters tell me they're busy again as the industry's big players seek to hire the best talent. And where senior level recruitment leads, more junior jobs will follow.
"The industry has long experience of riding out the peaks and troughs of the economic cycle. Its best players are steadily rolling out their latent capacity to meet growing demand.
"Rapid expansion after such a long lean period means some growing pains are inevitable, but with careful cost planning, the business risk associated with growth can be mitigated.
"November's surprise dip is a minor distraction for a newly confident industry - for most of us, it remains a case of 'don't panic and keep digging'."