Exclusive: Four firms replaced after change in ownership and switch to design and build approach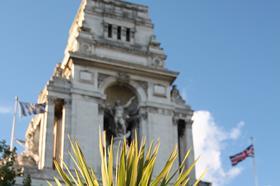 Four consultants have been dropped from one of London's most prestigious jobs, the £120m redevelopment of historic 10 Trinity Square, after a change in ownership of the project, Building can reveal.
Project manager EC Harris, structural engineer Buro Happold, M&E engineer Red and interior design firm David Collins Studio were all dropped after the client, Chinese investor Reignwood, bought out its joint venture partner KOP Properties last autumn.
Reignwood is converting the 91-year-old Grade II* listed building - which sits opposite the Tower of London and featured in the hit film Skyfall last year - into a luxury hotel and flats.
The change in ownership prompted a review of the project and a switch to a design and build approach, with Irish contractor Donban Contracting appointed late last year and instructed to lead the project and appoint a design team.
Buro Happold was replaced with Barrett Mahoney, Red was replaced with Malachy Walsh and David Collins Studio was replaced with HBA. Reignwood brought project management in-house.
The scheme's architect, Woods Bagot, was expected to be appointed as delivery architect, but the role instead went to TP Bennett. Woods Bagot has been retained by Reignwood in an advisory capacity. Original team members quantity surveyor Northcroft and planning consultant DB9 have retained their roles.
Construction on the scheme has now begun and is expected to run until late 2014.
KOP Properties confirmed it sold its interest in the scheme to Reignwood. Reignwood was unavailable for comment.
Keith Brooks, head of property at EC Harris, said: "The work was handed over amicably, and we continue to have a positive relationship with the client."