Administrator of Northern Irish specialist Mivan seeks buyer after making 100 staff redundant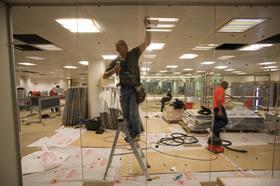 Potential buyers are circling the remaining parts of stricken fit-out specialist Mivan after the business was put up for sale by its administrator this week.
Mivan fell into administration earlier this month with administrator Deloitte making 98 of the firm's 289 workers redundant last Friday (17 January) following an assessment of the business and the cancellation of several contracts.
Deloitte said the remaining employees will stay in post while it explores a potential sale of the business, which is one of Northern Ireland's best known construction firms. Mivan specialises in high-end fit-outs, cruise ship fit-outs and overseas contracting.
Market sources told Building that fellow Northern Irish contractor MJM was sizing up a possible bid.
MJM said it was "following" the situation.
Mivan's situation has also thrown the status of some of its contracts into doubt, including its biggest London job, a £12.5m contract to fit out part of the £750m Fitzroy Place scheme in central London.
Client Exemplar and contractor Sir Robert McAlpine declined to say what impact the firm's administration would have on its role.
Mivan was hit by unsuccessful forays into overseas property development in recent years, prompting a restructure.
It was placed into administration following the failure of merger talks with fellow Northern Irish firm Lagan Group Holdings.
Peter Allen of Deloitte said: "While we hope to achieve a potential sale of the business, we are reviewing trading on a daily basis and this includes the employment situation.
"Where customers can no longer continue with contracts, the jobs associated with these contracts have, unfortunately, been lost."
Previous Mivan contracts include re-roofing the historic Dome of the Rock mosque in Jerusalem and outfitting the interior of the Scottish parliament in Holyrood.
The company has also twice refurbished the luxury ocean liner the QE2 and outfitted the interiors of two Disney cruise liners.
The company was founded in 1975 by current chief executive Ivan McCabrey, while he was still an engineering student.