Hull City Council has picked Bam Construction to build the £36.2m Hull Venue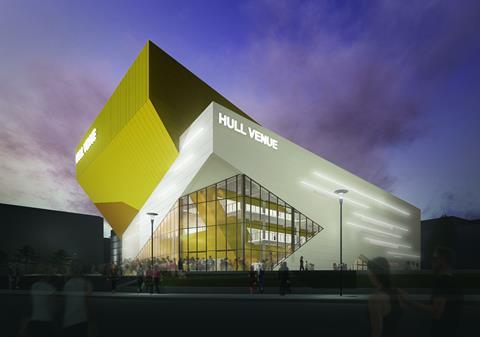 Bam Construction has been awarded the contract to build a new £36.2m music, events and conference centre in Hull by Hull City Council having demonstrated that it offered "the best value in terms of quality and price".
The firm will start work immediately on stage one of the project involving preliminary, pre-construction services.
Meanwhile a revised planning application for Hull Venue is to be submitted to Hull City Council's planning committee on 21 December after the initial application was refused this week.
It will be subject to a further 21-day consultation period and will be considered again by the committee early in February. If approved work on the development will begin later in 2016, with completion scheduled for early 2018.
Plans for the venue - behind Princess Quay Shopping Centre, where new retail facilities and a hotel are also proposed - include a 3,500 capacity concert auditorium, a 2,000m2 exhibition space, plus an 800 capacity conference auditorium.
Hull City Council is fully funding the cost of building the complex and the investment will also see the adjacent Osborne Street car park modernised.
Jason Pink construction director for Bam Construction said: "Bam's track record in the city of Hull has been outstanding and our appointment to build this prestigious arena is a testimony to years of successful work in many sectors here.
"Once again, Bam is appointed to deliver a special and complex building where the quality of our partnership with the client, our understanding of the whole lifecycle of a building, and our non-confrontational style and technical excellence will be exactly the right way to make a one-off building like this into a reality.
As we showed with Leeds Arena, Bam can leverage its world-leading expertise in stadiums, and its market-leading use of building information modelling. But in the end, it all comes down to our people and our attitude and we are delighted to work with Hull on something so striking and central to the City."
Councillor Stephen Brady, Leader of the Council, said: "I am absolutely committed to this landmark project, which is critical to the development of the city and our plans to make Hull a world-class visitor destination.
"We will formally hand over the City of Culture title to another city in 2020, but this development will allow us to continue to attract events capable of delivering a big economic impact beyond that."