Build UK survey finds contractors are less optimistic about workloads after the EU referendum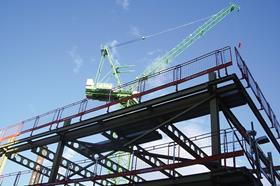 Contractors have said they are uncertain about future workloads following the Brexit vote, according to the latest trade survey from Build UK.
Contractors believe all construction sectors bar repair and maintenance will see a decline in output.
The survey covered the second quarter of this year, from April to June.
The number of contractors that expect workloads to increase over the next 12 months has fallen to 21%, down 5% on the last Build UK survey. Only 19% of contractors surveyed anticipate workloads to rise, a drop of 8%.
However, the survey found 81% of contractors are operating at over 75% of their capacity, with 46% operating at over 90% capacity.
Enquiry levels during this quarter experienced little change from the previous three months, while ouput among respondents rose 22%.
Labour supply remains an area of concern for the industry, with 82% of contractors reporting that professional and technical employees were either "difficult'" or "very difficult" to recruit, the survey reported.
Three-quarters of firms cited difficulty in recruiting supervisors and bricklayers, with two-thirds specifying carpenters or joiners and ceiling fixers.
Contractors reported that difficulties arose in recruiting staff due lack of experience (61%), lack of skills (57%) and a lack of qualifications (41%).
These difficulties continue to impact upon the cost of labour, with 45% of respondents reporting an increase in labour costs compared to the previous quarter and almost two thirds (65%) reporting higher costs than a year ago.
Build UK chief executive Suzannah Nichol said: "A period of uncertainty was inevitable following the decision to leave the EU and that has been reflected in the State of Trade results and, in particular, our members concern over future workloads.
"The most important thing is that we make the most of the opportunities presented by the referendum result, and we are already working closely with members to present a comprehensive response to Government with a view to crafting the best possible conditions for our industry to thrive in a post-Brexit Britain."