National Audit Office probe into the PFI deals says public sector will only pay 1% more
The cost of building and running the two hospitals left half-built by Carillion's collapse two years ago has topped £2bn - an increase of 43%, according to the National Audit Office.
When the contracts to build and run the Royal Liverpool and Midland Metropolitan hospitals for 30 years were signed in 2013 and 2014 respectively it was expected that it would cost £1.43bn. This figure has now risen to £2.05bn.
The public spending watchdog found that the expected total cost to build has risen 98% since the PFI contracts were signed.
But the bulk of this is set to be picked up by the private sector, with investors in the original Private Finance Initiative (PFI) deals left £603m out of pocket.
In its report, Investigation into the Rescue of Carillion's PFI Hospital Contracts, the NAO said the construction of the Midland Metropolitan is now expected to cost at least £663m compared with £350m in the original business case. This includes £315m still to be spent to complete the construction, including Sandwell and West Birmingham Hospitals NHS Trust's contract with Balfour Beatty and other costs.
It also said the construction of the Royal Liverpool is now expected to cost at least £724m compared with its original £350m price tag. This includes an estimated £293m for remedial work to the structure, including repairing cracks in concrete beams and replacing non-compliant cladding, and to complete the construction.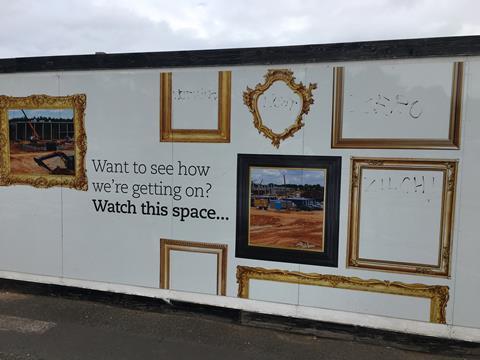 But despite the private backers for both schemes withdrawing from their deals to build the hospitals in 2018 the NAO has said that the government is only going to have to find 1% more cash to complete the two projects based on current figures.
It said: "The use of PFI means that the private sector will end up paying most of the cost increase, and the public sector is only expected to pay 1% more in real terms across both projects than was originally expected. Collectively the investors, their insurers and Carillion have lost at least an estimated £603m across both hospital projects."
It said once the increased cost of maintenance and the impact of the delay on other projects was taken into account, the total cost to the public sector was expected to have risen by 3% for the Midland Metropolitan hospital but actually fall by 1% for the Royal Liverpool.
Both the SWBH and Liverpool University Hospitals NHS Trust will pay for any further costs arising from problems with Carillion's work.
Carillion's hospitals in numbers
Midland Met
Delayed: 3 years and 9 months
£315m still to be spent completing construction
Current expected cost to build and run: £988m (+44%)
Royal Liverpool
Delayed: More than five years
£293m for remedial work to the structure and to complete construction
Current expected cost to build and run: £1.06bn (+42%)