Network Rail chief executive Mark Carne admits overspend during grilling by MPs yesterday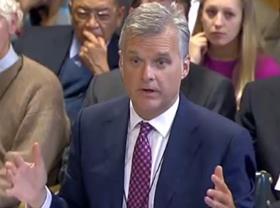 Network Rail chief executive Mark Carne has admitted that the cost of electrifying the Great Western Main Line has increased by over £1bn.
It came as Carne faced questions from MPs on the Public Accounts Committee yesterday as part of its ongoing inquiry into overspend and delays on Network Rail's Control Period 5 development programme.
Carne revealed the cost of the electrification of the Great Western route had nearly doubled from £1.6bn a year ago to between £2.5-2.8bn today.
He gave three reasons for the increase, which were "inadequate planning and scope definition" in the early phases of the project, as well as "poor cost estimating" and a change in the "intended flexibility of the regulatory regime … post the reclassification of our debt."
Carne said the cost increase was "extremely disappointing."
Carne's revelations came during the inquiry, in which Office of Rail and Road chief executive Richard Price and Department for Transport permanent secretary Philip Rutnam were also grilled on their roles in CP5.
When asked if the £900m-plus cost overrun on the Great Western electrification was due to Network Rail's inefficiencies, chief executive of the Office of Rail and Road, Richard Price, declined to comment specifically.
However, he said: "We believe that had this been planned in a different way and had the risks to the programme that we had all identified early on been addressed, we would be in a different position."