Campaigners argue government's decision to grant planning permission to the £123m M6 link road was flawed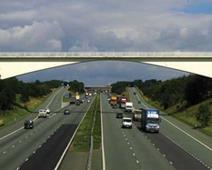 Campaigners against Costain's £123m M6 link road project have lodged a legal challenge to the government's decision to give the scheme the green light.
The scheme for a motorway between the M6 and Heysham in Lancashire was first mooted in 1948 but a formal planning submission was only entered in 2005.
Following an earlier unsuccessful legal challenge, plans for the current iteration of the scheme were submitted to the Infrastructure Planning Commision (IPC) in 2011.
It was granted planning permission in March this year.
Costain was appointed to work on the scheme in 2010, when it was still in the planning process, along with engineer Jacobs.
David Gate, chair of campaign group Transport Solutions for Lancaster and Morecambe, which lodged the judicial review application, said the scheme was the "wrong solution" for the area's transport problems.
He said: "Judging by the reaction to the decision to go-ahead, there are thousands of people who find that decision perverse and ill-founded on transport, environmental and economic grounds. The decision should be tested, and our challenge will test it."
He outlined five grounds on which it considered transport secretary Patrick McLoughlin's decision was not done in accordance with the law.
Steven McCreesh, project director Heysham to M6 Link at Lancashire council, said he was "very disappointed" with the decision to apply for a judicial review.
He said: "This will only serve to delay and increase the costs of the scheme."
He added: "Objectors to the scheme tried a similar challenge in 2008, against the grant of planning permission, but the case was dismissed. The High Court judge… was critical of the action of the objectors, indicating that unmeritorious challenges only delayed much needed development and increased the cost to the public purse.
"Whilst the Judicial Review is against the decision of the secretary of state for transport and not the county council, the county council will seek to have the case expedited and take an active part in defending the proceedings."
The Department for Transport have been contacted for comment.
The grounds of the legal challenge
The scheme is not Nationally Significant Infrastructure Project and so should not have gone through the Infrastructure Planning Commission in the first place.
The consultation was inadequate because it did not include discussion of the principles underlying the scheme and the route chosen.
National Policy Statements on ports and nuclear power were used to justify the scheme, but were not relevant in the absence of any definite plans.
An alternative western route was dismissed without going through the correct procedures.
The council failed to carry out surveys of otters along the route, which it should have done because otters are a European protected species.