Plans involved building HQ for local authority
Warwick district council has abandoned plans to build a £25m mixed-use scheme in Leamington Spa after taking a second look at how much office space it needed in the wake of the covid-19 pandemic.
The five-storey town centre building would have replaced an ageing multi-storey car park with a scheme consisting of 44 homes, a three-storey council headquarters office and a new 617 space multi-storey car park.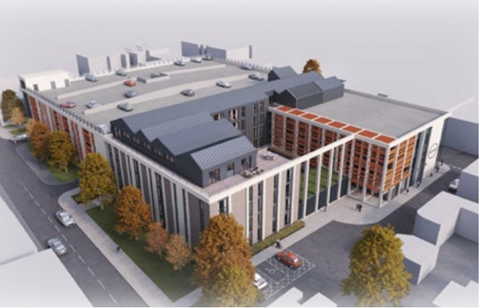 But in an update on the Official Journal, the council said the scheme had been cancelled because of "uncertainty regarding Council site requirements".
A spokesperson for the council blamed the impending expiry of the scheme's planning consent – granted in April 2018 – and the covid-19 pandemic for the decision.
She added: "With the planning permission applicable to the tender due to expire, the need to make a decision regarding completion of the contract award became more urgent; however in light of the current pandemic and its influence [on] ways of working it was decided to revisit our requirements rather than proceed."
The Corstorphine + Wright-designed scheme would have been located in Leamington Spa's Covent Garden market district, an area home to numerous independent businesses.
In planning documents, the architect said the new building would provide "a safe and much needed parking facility and enhance the mix of uses in the [centre] of Leamington Spa".
It added that the existing multi-storey car park will "require replacement in the near future due to major deterioration of its concrete structure".
Last week Mark Robinson, the chief executive of procurement specialist Scape, warned that both private and public sector clients were going to face "tough decisions" over which schemes to back in the coming months because of the impact of the virus on spending plans.