GMB union asked to produce list of contractors who have not been implicated in industry scandal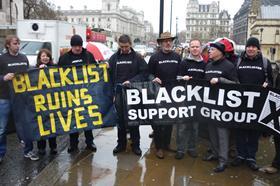 The GMB union is drawing up a "whitelist" of contractors with no history of blacklisting for local councils in an effort to prevent firms involved in the scandal from winning public sector work.
Building revealed in April that - at that point - around two dozen local authorities had passed motions in support of a campaign run by the GMB to avoid awarding work to firms previously involved in blacklisting "till they compensate those they damaged". Just last month the Scottish government detailed similar plans.
The GMB and the Trades Union Congress (TUC) are hoping to finalise a list of contractors they say are untainted by past blacklisting after local authorities sought guidance from them.
At least four London councils have been involved in discussions and there are hopes that the other two construction unions - Ucatt and Unite - will agree on a final version of the whitelist by the time of the TUC Congress in Bournemouth on 8 September.
At least one large contractor has written to unions in an attempt to disassociate itself from blacklisting and put itself forward for taxpayer-funded work, Building understands.
Maria Ludkin, GMB national officer for legal and corporate affairs, said it had been trying to draw up a list of the "top 20 large and medium-sized" construction firms which have not been involved in blacklisting.
"We have put together the list and are in discussions with some councils about it - we hope to establish a benchmark," she added. "This is being led by us but the other unions think it's a great idea."
Labour councillor at Islington Council, Gary Doolan, voiced support for the whitelist adding that Islington has begun a "scrutiny process" to examine how it could avoid awarding work to firms involved in blacklisting.
"We are looking at all the contractors we are working with and are calling in contractors to look at the evidence," he said.
Doolan added that his council, plus others such as Barking & Dagenham, Ealing and Newham had been involved in discussions over a London-wide anti-blacklisting procurement policy.
Back in April, lawyer Rupert Choat, head of construction disputes at CMS Cameron McKenna, suggested councils could deny work to firms involved in blacklisting under the Public Contracts Regulations 2006, although he predicted they could also be challenged over this.