Shares in housebuilder fall one fifth as first quarter profit more than halves
Countryside chief executive Iain McPherson has left suddenly after the firm said its performance in the first quarter was "below expectations".
McPherson, who was appointed chief executive just two years ago in January 2020, has stood down with "immediate effect", the firm said in a first quarter trading update this morning which prompted the firm's share price to collapse by a fifth. It said McPherson had resigned "by mutual agreement".
The housebuilder has also appointed a partner of one of its shareholders Browning West – the firm which forced Countryside's change of strategy to focus solely on partnerships housebuilding – to the board.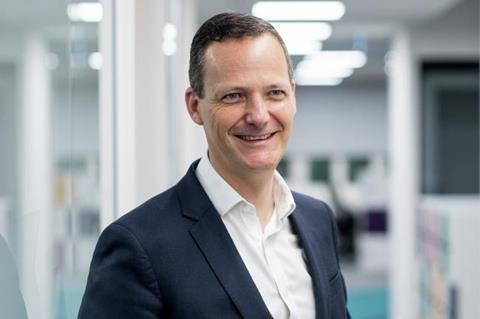 The senior leadership changes came as Countryside reported a steep drop-off in performance in the first quarter of its financial year, which is for three months to December 2021, despite hailing continuing "attractive market conditions" in its results statement just six weeks ago.
Countryside said completions across its legacy housebuilding and partnerships divisions combined had dropped by more than a third, with adjusted operating profit more than halving.
The firm said it sold just 809 homes in the three months to December, down 37% on the 1,280 in the same period the previous financial year, with completions down 35% in partnerships and 44% in traditional housebuilding.
The business's adjusted operating profit for its partnerships business – supposed to be the jewel in the crown of the firm – dropped by 53% to £11.3m, barely less than the 59% drop reported in the housebuilding business it is exiting.
Group operating profit during the quarter fell to £16.5m from £36.6m last time.
Announcing preliminary results at the end of November last year, Countryside had then said it expected "attractive market conditions" to continue and that it would deliver adjusted operating profit of between £200m-210m for the current financial year.
The firm's share price dropped by as much as 24% in early trading following today's news.
Countryside said chair John Martin will take over the business as interim chief executive, starting the job by conducting a review of each of the company's developments "to ensure that each site is being developed in accordance with the plans set out during the investment process".
The drop in performance comes after the firm decided last July on a sharp about turn in its strategy, to exit its historic private sale housebuilding business and focus entirely on its well-respected partnerships housing operation.
See also: Genius or folly? Why Countryside's decision to get out of housebuilding is causing a stir
The change in direction for the business came after pressure from activist investor Browning West for it to focus on partnerships housing, pressure which last December forced the exit of previous chair David Howell and prompted a strategy review.
Today's announcement sees the firm apparently doubling down on the decision to focus entirely on partnerships housing, with the appointment of Browning West partner Peter Lee as a non-exec director at the business, from next Friday.
Announcing the news, Martin thanked McPherson for leading Countryside through a "challenging period".
He said Lee and the Browning West team "have engaged actively and positively with the Company and the Board has been impressed with their long-term orientation and deep understanding of Countryside's business. Peter has an impressive track record in public market investing and really understands value creation."
Lee's appointment comes despite Browning West's public campaign to remove the firm's prior chair David Howell. Countryside said the appointment had been made on the basis he "will not requisition (or propose resolutions at) general meetings of the company, circulate statements to shareholders or seek to remove directors from the Board".