Sales also drop by a quarter as housebuilder says it is 'too early' to know the shape of the post-lockdown market
Housebuilder Berkeley Group saw sharp fall in sales, turnover and profit in the year to the end of April as it dealt with the impact of the coronavirus lockdown, it said in results released this morning.
The business, which is working on the Kidbrooke Village scheme (pictured) in Greenwich, said pre-tax profit fell by 35% to £504m, mostly due to the fact a series of large London schemes picked up in the wake of the credit crunch which had boosted previous profits have now been fully completed.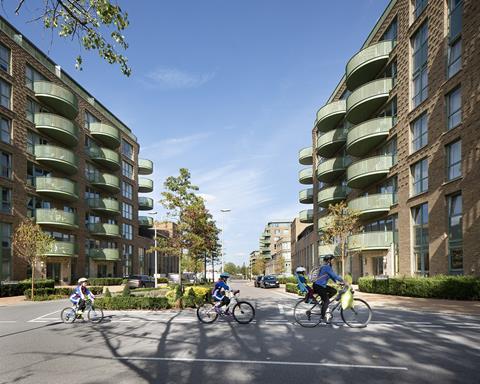 But it said around £50m of this fall in profit was due to the covid lockdown, despite its performance "surpassing initial expectations" and reducing the scale of the hit. Berkeley also saw turnover dip by 35% to £1.9bn, as completions fell by 26% to 2,723 homes, again affected by the difficulty of completing sales in lockdown.
Berkeley, which alone of the listed UK housebuilders remained on site all the way through the lockdown, said site productivity had initially fallen to around 40% but had since recovered to around 80% of normal levels.
Chief executive Rob Perrins said the firm had seen strong sales buoyed by the decisive general election results up until the onset of the covid crisis but that sales in April and May fell to around 50% of normal levels.
He added: "As the economy gradually re-opens we are seeing activity increase but it is too early to determine where demand will settle over the coming months."
This comment comes despite reports from estate agents of buoyant demand as the market has reopened since lockdown rules were eased.
It added that government reforms to building regulations, added to the difficulty of getting fire engineers to provide necessary certificates was "is creating delays in the second hand housing market which seems unlikely to ease until a collaborative regime, based on risk assessment, is established".
The firm confirmed the postponement for two years of a previously proposed £455m exceptional investor payout, citing covid-related uncertainty and saying that it wanted to hold on to the money to allow it to invest in land should opportunities arise. However, it said normal dividend payments will continue with the next £140m instalment due to be paid in September.
The firm reported net cash of more than £1bn, with £1.14bn in the bank. However, the group has declined to comment on reports that it has begun a redundancy consultation with up to 200 staff.
The firm will continue its investment in modern methods of construction, with bespoke machinery for its new housebuilding factory due to be installed this year.