Trade body urges government to get on with Brexit negotiations as uncertainty delays projects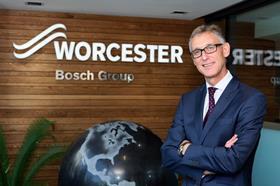 The Construction Products Association is warning that worries caused by Brexit will see growth flatline in the industry next year.
The bleak warning was issued by its chairman Carl Arntzen (pictured), the boss of boiler maker Worcester Bosch, as the UK and EU remain at loggerheads over how much the UK has to shell out as part of its Brexit divorce bill.
Earlier this week, the EU's chief negotiator Michel Barnier said he was planning for the possible collapse of Brexit negotiations with the UK, days after saying Theresa May's government would have to clarify its position by the end of the month on what it would pay to settle its obligations to the EU if future trade talks were to go ahead in December.
Arntzen told Building that the lack of progress in the near 17 months since last June's Brexit vote was now starting to have a real impact on his members' workloads.
He said: "A lot of our members have started to say projects are being delayed and those are the early signs of people starting to get a bit twitchy.
"We are urging the government to get on with these Brexit negotiations and get them done as quickly as possible so we can minimise the uncertainty that is being experienced. This, as well as the devaluation of the pound and the currency impact, are major worries."
The Construction Products Association is expecting minimal growth this year but Arntzen added: "[While] infrastructure and private housing continue to drive growth, the rest of the market is less buoyant, which means the forecast anticipates nominal growth this year and none in 2018.
"There is always a danger that the slowdown in growth will increase. Construction is a long-term investment and when there is any uncertainty, then that will slow down and we are seeing the early signs of that."
Arntzen's warning comes as the Association of Consultancy and Engineering said a fifth of large UK consultancy and engineering firms would look at moving jobs abroad if access to skilled EU nationals is not maintained.