Initiative aims to fight misleading marketing by firms
The Construction Products Association (CPA) is launching a consultation into a new code which aims to set the benchmark for how construction products are marketed.
The CPA is looking for industry-wide feedback on its Code for Construction Product Information (CCPI), which has been drawn up in the wake of testimony at the ongoing public inquiry into 2017's Grenfell Tower fire.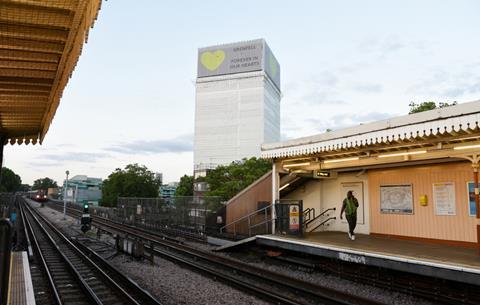 It has been developed by the CPA's Marketing Integrity Group (MIG), which was tasked with responding to the issues raised in Dame Judith Hackitt's 2018 report on building safety.
The report looked at how to prevent fires like the one at Grenfell Tower (pictured) – which killed 72 people in June 2017 – and concluded the way construction products were tested, presented and marketed was in need of radical overhaul.
The development of the code also follows a survey carried out in 2019 by the MIG, which gathered over 500 responses from across the industry on how the presentation of product information needed to change.
The new code consists of 11 clauses which product manufacturers who sign up will agree to abide by.
> CPA view: A big step forward in pursuit of safer products
These include a pledge not to use misleading or ambiguous wording, phrasing or imagery when presenting product information, and having a training programme in place to ensure that anyone conveying product information has the level of knowledge required for their role.
The two-month consultation, which opens on 1 February, aims to give manufacturers, specifiers and users of information the opportunity to comment on the code, the implementation of its 11 clauses and its ongoing management and policing. The consultation is being carried out independently by MRA Research.
CPA chief executive Peter Caplehorn said: "The importance of this new code and consultation process will be obvious to all those working in the built environment post-Grenfell.
"It is our responsibility as an industry to regain public trust and credibility in what we do and to demonstrate that technical competence can be trusted."
He added that he believed the code to represent a determined attempt by manufacturers to "correct disingenuous marketing practices" as well as a collaborative effort to address the issues highlighted in Hackitt's report.
"I hope businesses and individuals will embrace the opportunity to be involved and recognise the urgency of change that is needed for our industry to ensure safe buildings."
The second module of phase two of the inquiry into the Grenfell Tower fire has heard how insulation manufacturers Kingspan and Celotex had rigged fire tests in order to market dangerous combustible insulation products as safe to use on high rise residential buildings.
The inquiry heard how one product which was used on the west London tower's refurbishment, Celotex's RS5000 insulation, was a rebranded version of another product which was not safe for use on high rise buildings.
Another, Kingspan's K15 insulation, had been marketed as safe for use on tall buildings for more than 14 years based on a test report of a chemically different product.
Although K15 was never specified for use as part of the refurbishment of Grenfell Tower, after the fire it was found to have been installed behind the new aluminium composite material cladding on some parts of the block.
The inquiry is set to resume with virtual hearings on 8 February after being delayed by four weeks because of the introduction of the third national covid-19 lockdown.
Earlier this month, housing secretary Robert Jenrick announced the establishment of a new construction products regulator which will have the power to remove any product from the market that presents a significant safety risk and prosecute any companies who flout the rules on product safety.