Materials giant takes over Tarmac business as part of £4.9bn expansion deal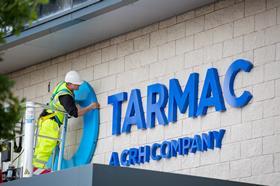 Irish building materials giant CRH has completed a takeover of a number of former Lafarge Tarmac assets in the UK, as part of its €6.5bn (£4.9bn) deal to acquire assets globally from the newly-merged LafargeHolcim business.
The new UK business will trade as Tarmac again, employing around 6,600 staff across 330 sites.
As part of the deal, CRH will also acquire assets in France, Germany, Central and Eastern Europe, as well as Brazil and the Philippines, where it will gain entry position in the two emerging economies.
The deal doubles CRH's cement production volumes and makes it the third largest building materials company globally, adding 15,000 staff to the firm.
Completion of the deal comes after Lafarge and Holcim completed their mega-merger in June. As part of the deal Holcim's UK-based arm, Aggregate Industries, took ownership of Lafarge UK cement plants, enabling it to expand into the UK cement market.