Building materials group buys US products firm CR Laurence for £838m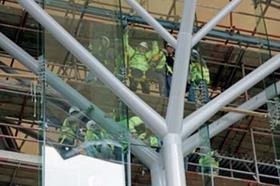 Ireland-based materials giant CRH has followed up its acquisition of Lafarge Tarmac with another major takeover - this time of US-based construction products group CR Laurence for $1.3bn (£838m).
CR Laurence (CRL) employs 1,600 employees across 42 locations and specialises in the manufacture and distribution of glazing products.
Earlier this month CRH completed the £4.9bn acquisition of a number of global assets from the newly-merged LafargeHolcim business, including Tarmac in the UK.
CRL's forecast sales are expected to be $570m (£370m) for 2015, CRH said. The firm has been purchased debt-free and CRL's senior management team will form part of CRH's building envelope division.
CRH chief executive Albert Maniford said: "CRL is a business with strong growth characteristics and an excellent operational fit with our Building Envelope business in the United States and represents an exciting opportunity for CRH.
"In addition to increasing our exposure to the growing non-residential and residential construction markets in the United States, CRL's strong brand, focus on innovation and growing presence in Europe and Australia, combined with CRH's international reach, provide the potential for this high-growth business to become a global leader."