Government to send letters to key individuals as 'pingdemic' escalates
Construction workers who the government considers to be critical may be given individual exemptions from self-isolating, the Cabinet Office has said.
Employees deemed to be eligible for the exemptions would be those whose absence from work could have a major detrimental impact on essential services, including where loss of life could occur if those services were compromised.
The highly limited exemptions would see construction employers receive a letter from the Department of Business, Energy and Industrial Strategy naming the critical workers who do not have to self-isolate.
There are currently no plans for blanket exemptions for any sector or role, the Cabinet Office said.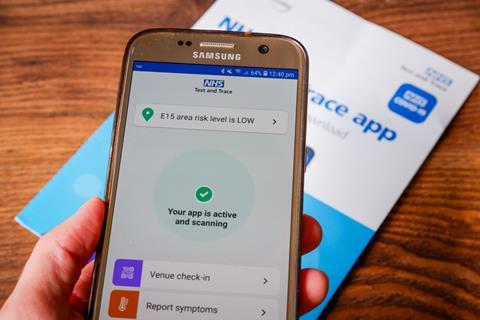 The announcement comes as the industry faces a wave of absences because of workers being told to self-isolate by the NHS covid-19 app in what has been described as a nationwide 'pingdemic'.
Users of the app are 'pinged' when they have come into close contact with someone who has tested positive for covid-19.
The soaring numbers of self-isolating workers has come at a time when the industry is already facing a labour shortage and as many staff are away from work on summer holidays.
The Construction Leadership Council (CLC) warned yesterday morning that ongoing material shortages were being worsened by the absences.
And yesterday afternoon the CLC published a new guidance document for construction firms setting out the rules on self-isolating.
There were more than 44,000 more confirmed covid-19 cases on Wednesday, with cases expected to keep on rising until at least September.
But from 16 August, fully vaccinated people and those under the age of 18 will no longer be legally required to self-isolate and will be advised to take a PCR test.
Those who test positive will still be required to self-isolate regardless of their age or vaccination status.
Build UK chief executive Suzannah Nichol told Building earlier this week that the industry was in for a "long four weeks" before the self-isolating rules are relaxed.
Nichol, who is a member of the CLC's covid-19 taskforce, said that firms had flagged labour shortages because of self-isolating rules as the biggest risk they are currently facing.
Last week, the CLC said the construction employers should "expect and recommend" that staff continue to wear face coverings in crowded and enclosed areas beyond yesterday's formal easing of covid restrictions.