The Crown Estate's £1bn regeneration of Regent Street has entered its next phase after contractor Sisk began work on Quadrant 2 South.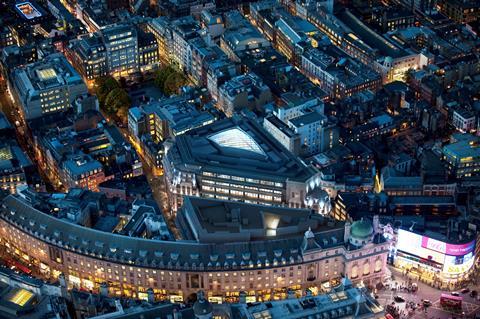 The work is a wholesale retrofit of Quadrant House and 7-9 Air Street, and construction will be completed in early 2015.
The Grade II listed buildings will retain their façade while providing new office space, aimed at enhancing Regent Street's business reputation.
The building will draw power from the UK's first molten carbonate fuel cell, recently installed at Quadrant 3.
It is hoped this will lead to a 40% reduction in carbon emissions than equivalent new buildings. The cell itself is the most efficient of its kind in Europe.
A series of green sustainable technologies will also be employed, such as photovoltaic panels.
Alastair Smart, head of development at The Crown Estate said: "This project is a great example of our commitment to high quality, sustainable development in our on-going transformation of Regent Street."
Since redevelopment of Regent Street began in 2002, twelve major redevelopments have been completed.
A notable highlight is the Quadrant 3 mixed use redevelopment, a £400m project that occupies 270,000ft2 and counts Telefonica Digital among its office tenants.
Two further projects, W4 and W5 South, are on site and will provide 250,000ft2 of office and retail space.
Buro Four is project manager on the scheme and Sweet Group is the quantity surveyor.