Sir Robert McAlpine director called by Scottish Affairs Committee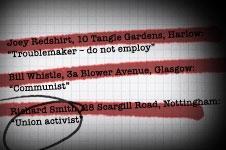 An influential committee of MPs has called Sir Robert McAlpine director Cullum McAlpine, one of the figures most implicated in the blacklisting scandal, to appear in public next week.
The Scottish Affairs Committee has called Cullum McAlpine to give evidence to the committee next Tuesday as part of its ongoing investigation into blacklisting.
The news comes as the London Assembly passed a motion yesterday calling for the Mayor Boris Johnson to show that no blacklisting has taken place on the £15bn Crossrail project.
According to evidence previously given by Ian Kerr, head of the consultancy that carried out blacklisting of workers on behalf of major contractors, Cullum McAlpine was the inaugural chair of the firm, called the Consulting Association (TCA), and helped set it up.
A High Court claim lodged last week by alleged victims of blacklisting against Sir Robert McAlpine, said the firm "took a central" role in the establishment and operation of blacklisting, and that Cullum McAlpine was the founding chairman in 1993, recruiting Kerr and arranging his pay and conditions.
Sir Robert McAlpine has admitted that Cullum McAlpine was the first chair of TCA, but says the body was set up by a "large group" of construction companies and that Sir Robert McAlpine was not "solely responsible" for its establishment or funding.
Ian Davidson, chair of the Scottish Affairs Committee, said: "On the evidence of Ian Kerr and others, Cullum McAlpine seems to have been the prime mover in establishing, running and then closing the Consulting Association.
"We very much look forward to hearing his side of the story."
Following an investigation by the Information Commissioner's Officer in 2009, TCA was found to be operating a blacklisting service designed to deny employment to certain workers for over 40 contractors, including many of the biggest names in the UK
Sir Robert McAlpine this week issued a statement saying: "Sir Robert McAlpine Ltd has never operated a 'blacklist'. We are, and have always been, wholly committed to maintaining good relationships with our workforce and to responsible trade unionism.
"The Consulting Association (TCA) was established by a large group of construction companies. All the member companies contributed to, and accessed information from, the TCA from time to time. Directors and representatives of a number of major construction firms chaired TCA over the years. These include Mr Cullum McAlpine who was chairman for a period in the early 1990s.